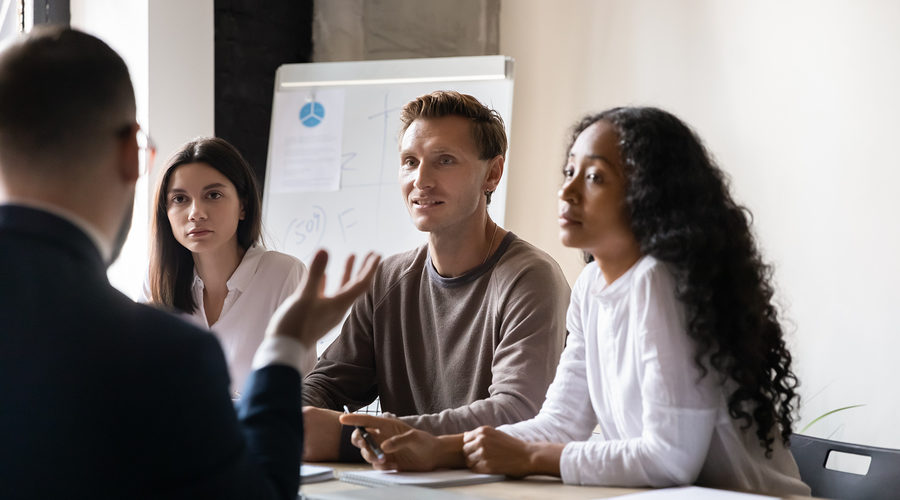 The world is changing. It's growing. It's evolving.
Despite the #metoo movement taking the globe by storm in 2006 and peaking in 2017, sexual harassment in the workplace has not yet been stamped out.
Nowhere is this clearer than the 2018 survey from NPR, which found that a massive 81% of women have experienced sexual harassment. Combine that with 43% of men going through sexual harassment, and the evidence is overwhelming. The world, despite its evolution, is a scary, dangerous place.
One setting that people should never have to worry about sexual harassment in the workplace.
Yet, 38% of women from that same survey stated they were harassed at work.
What is Sexual Harassment?
The US Department of State defines sexual harassment as "unwelcome sexual advances, requests for sexual favors, and other verbal or physical conduct of a sexual nature constitute sexual harassment."
In the United States, the law distinguishes two types of sexual harassment:
Quid pro quo sexual harassment
Hostile work environment
Quid pro quo stems from Latin and translates to "this for that." This form of sexual harassment in the workplace often involves blackmailing somebody for their position, salary, benefits, or employment for unwanted sexual advances or favors.
A hostile work environment is when someone has to (or feels the need to go through) a consistently difficult and offensive environment based on sexual advances. This is a massive contributor to the abusive and damaging environment that it was so named after.
Mandatory Sexual Harassment Training in New York
New York was the first State to enforce annual mandatory preventative sexual harassment training in the workplace.
The State requires written proof that the company has delivered its mandatory annual training based on the high statistics.
How does Sexual Harassment Training Work?
Enforcing all employees in New York City to take part in sexual harassment training every year means consistent refreshes.
In an ever-changing world, the laws and ways sexual harassment can take place need to be taught to prevent it.
The training allows organizations to develop and maintain a respectful, inclusive, and safe working environment.
And here at Impact Compliance, our engaging, interactive courses draw on real-life scenarios to guarantee that each employee recognizes sexual harassment and knows what to do should they be sexually harassed themselves.
Sexual harassment training, particularly our courses, teach employees:
What sexual harassment looks like, eliminating any 'grey' areas
How to prevent sexual harassment
And who to tell if it happens
The key is in understanding and learning about improper conduct.
Running training to prevent sexual harassment in a company requires removing the stigma, opening up, and talking about real-life scenarios.
Sexual harassment compliance training is more than abiding by the laws. It's about preventing and recognizing inappropriate, discriminatory behavior in the workplace.
It's about tolerating nothing less than a respectful environment for every employee, where everyone can come to work feeling secure.
The Need For Sexual Harassment Training
While the world is talking about many of our social issues, sexual harassment is still a difficult conversation to have.
Lin Farley, Director of the Human Affairs Program at Cornell University, states that "sexual harassment of women in their place of employment is extremely widespread. It is literally epidemic."
Lin Farley then continued to list some of the forms sexual harassment can take:
Constant leering and ogling of someone's body
Continually brushing against someone's body
Forcing someone to submit to squeezing or pinching
Catching someone alone for forced sexual intimacies
Outright sexual propositions, backed by the threat of losing a job
Sexual harassment isn't always easy to spot. Especially as the world is a highly conditioned place, however, after taking off the rose-tinted glasses and being educated about sexual harassment through training, the likelihood of it occurring in the workplace will decrease.
Karen DeCrow, a Feminist Leader, explained that "sexual harassment is one of the few sexist issues which has been totally in the closet. It's an issue that has been shrouded in silence because its occurrence is seen as humiliating and trivial."
However, by ensuring training will take place regularly, it shows the company that sexual harassment will be taken seriously, creating an all-around respectful environment with people who are aware and knowledgeable.
Sexual Harassment Training Online – New York
Here at Impact Compliance Training, our sexual harassment training in New York is online.
It teaches through video, audio, interactive material, and colorful graphics to ensure the learning experience is both engaging and effective.
All of the training material has been created by experienced employment lawyers in real-time, meaning you can guarantee that the course is in compliance with state training mandates.
We even provide state-specific mobile device-enabled courses.
All courses use a unique self-registration process, meaning you can access them on a smartphone, computer, or tablet.
No matter if used by large, national companies or the local, small business with a team of less than 5, we've ensured that our flexible, online sexual harassment training is also affordable with our tiered pricing options.
Training, especially when it's something as important as sexual harassment, can take over your life. ICT understands that the workplace requires work and that training shouldn't become your full-time job. So, we use a fully functional learning platform (LMS) to provide automatic email reminders, course reassignments, send completion confirmation and alerts to the admin, tracking and reporting all for you.
You'll be given a dedicated customer service manager who will work 1:1 with you to guarantee success with the program.
Impact Compliance Training is using technology to make the workplace a safer environment.
Because there really is no place for sexual harassment in the workplace.
Sexual Harassment In The Workplace Training – Sign Up Today
Impact Compliance Training is here to guarantee awareness, recognition, and respect across the workplaces of New York.
Sign up for a free course trial today. Signup will take less time than it takes to make a cup of coffee, and the benefits for your company are endless.
Check out Impact Compliance Training's sexual harassment courses in California, Illinois, or other states.
And make sure to watch our webinar recordings to get a taste of the training style at Impact Compliance Training.
Sexual harassment covers a range of complaints such as harassment…
Sexual Harassment training is a standard in compliance training for…
If you would like to learn more about ICT's interactive online compliance training, check out our free course trial.